She may be part of an iconic Macau family, but Sarah Ho has shone brightly in her own right via her globally renowned bespoke jewelry designs.

I love colorful dresses. What do you think of the red one?" asks Sarah Ho. The talented jewelry designer and granddaughter of Dr Stanley Ho is deciding on which dress she will wear to match the colorful gems displayed in a spacious showroom inside MGM Macau.
"To be honest, I think you will look lovely in any of them," I comment.
Warm, feminine, elegant, yet down to earth, it is hard to imagine Sarah actually comes from one of the most prestigious and important families in Macau's history. Her grandmother is Clementina Leitão, who was once known as "the greatest Macanese beauty" when she married Dr Ho in 1942. Her mother is British model and Bond girl Suki Potier, who appeared in Casino Royale and dated The Rolling Stones' Brian Jones before marrying Robert Ho, Sarah's father and a former student at the London School of Business.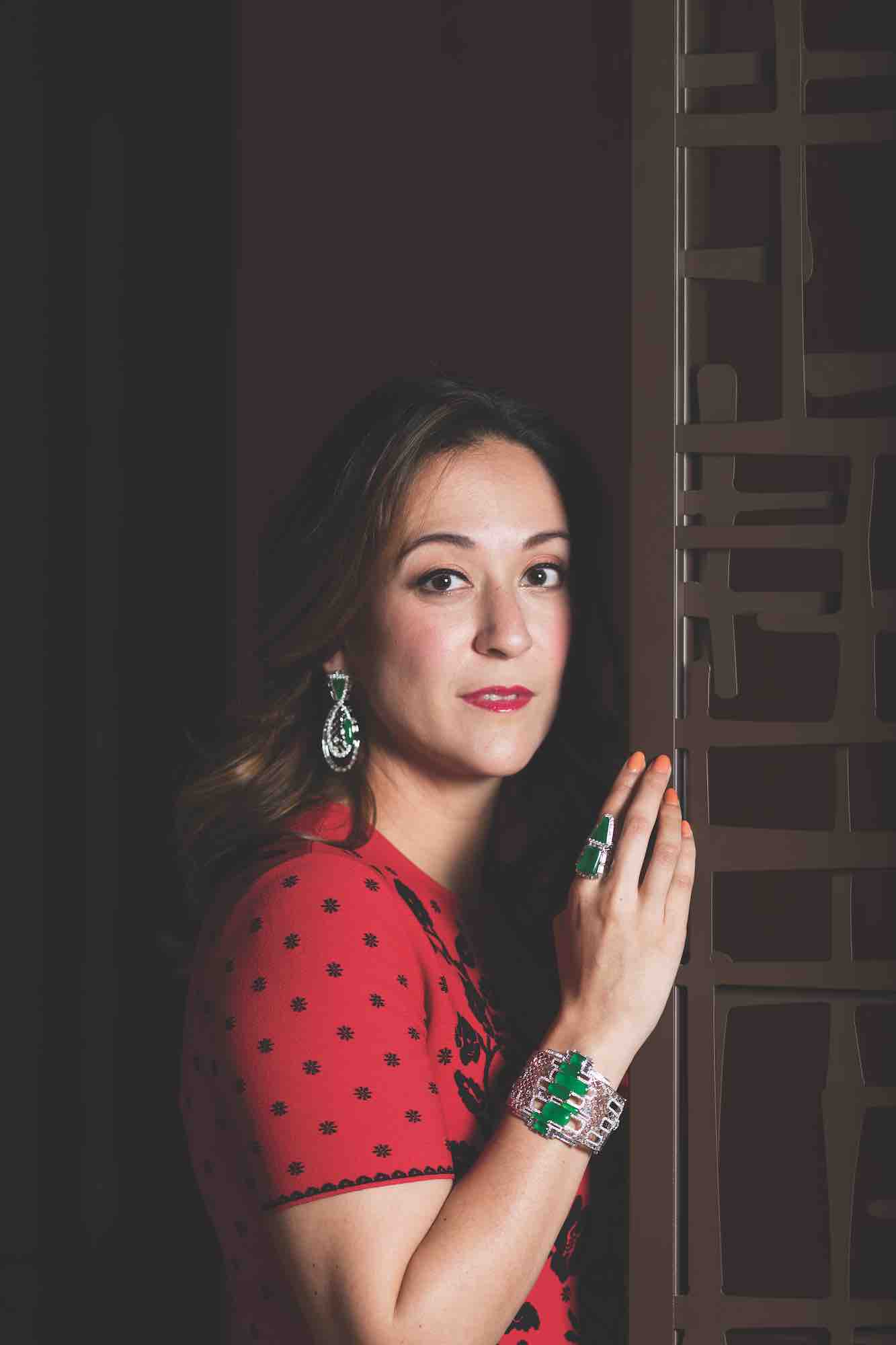 Since many of Sarah's family members are no longer with her due to old age and other various tragic phenomenon, I decide not to bring back her painful memories when chatting with the accomplished and artistic lady. Instead, we focus on discussing the positive elements in life: work, creation and inspiration.
Having studied fashion design at the London College of Fashion and graduated from London Metropolitan University with a degree in jewelry design and qualifications as a gemologist, Sarah started her own company based in London more than 10 years ago. Born in Hong Kong and raised in Macau before moving to the UK as a teenager, Sarah recalls what she adored about this part of the world when she was a child.
"I loved playing in the gardens when I was growing up in Macau," she explains. "The vivid memories from looking at beautiful lilies and numerous types of flowers are still fresh in my mind. Lovely surroundings and important people in my life all have a big impact on me."

Her latest "Hidden Garden Collection" takes its inspiration from flowers that hold a personal meaning for her. From the lily that graced her childhood home to the peony from her wedding bouquet, the delicate shapes and colors take their form in fine lines of metal and gemstones personally selected and treasured by Sarah. According to Sarah, her pieces are a sentimental reflection of the different chapters in her life and her family heritage. It is as if she is creating an autobiography through her work.
Honored by the jewelry industry both in the UK and internationally, Sarah has also collaborated with eminent companies such as Coutts Bank, William & Son and Swarovski. "It girls" and celebrities including Bella Hadid, Karlie Kloss and Asia's favorite Carina Lau are all her fans and can often be seen wearing her works of art. However, Sarah does notice there are some differences between individuals in Europe and those in Asia when it comes to aesthetic appreciation.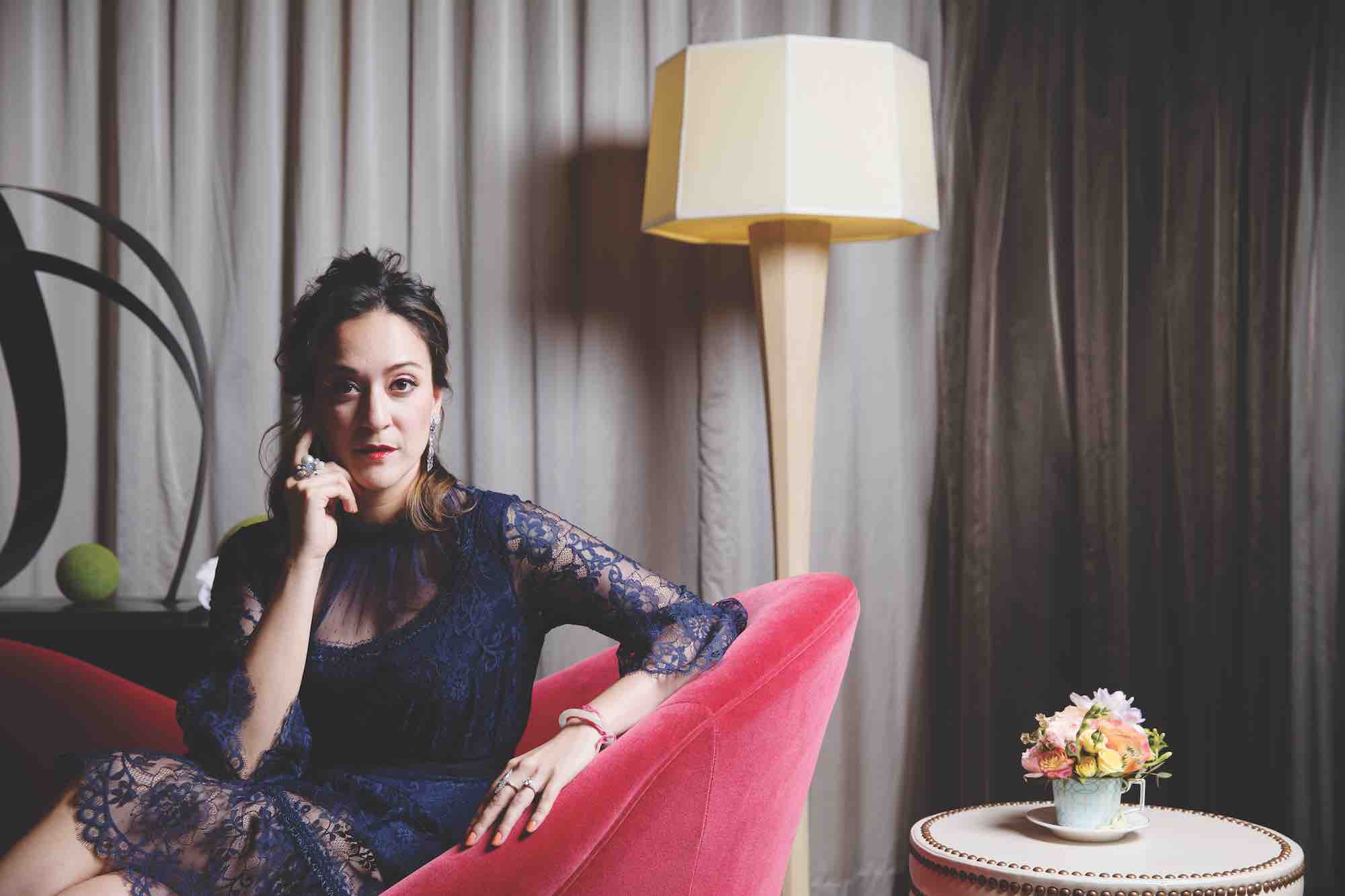 "The Asians love big and bold pieces while the Europeans prefer subtle creations. That is why I enjoy traveling between London and Macau for example, because as a designer I like to be audacious and create something unique. If I am always designing simple pieces, it would not be so much fun," she explains.
Showcasing what she means by "fun," Sarah created the Jade Collection which allowed her to take the very traditional Asian stone and design jewelry with a fresh, modern approach. Sarah spent over a year sourcing the rarest jade to bring together her heritage growing up in China, the Western influences of her home in London and the Art Deco movement, which have become synonymous with her design signature.
Inspired by the Chinese moon shaped fans of the Ming Dynasty, an outstandingly gorgeous piece in the collection is named "The Jade Fan Suite."  Exquisite and graceful, the fan earrings and pendant are handcrafted in 18 carat white gold with brilliant and baguette cut diamonds. Tutti Frutti conch pearls act as accents that frame the most exquisite jade.

"There has been a keen interest in the Jade Collection and the pieces that have conch pearls," she says. "I used the charming and rare conch pearls as an accent in this sumptuous suite, a stone which brought me great pleasure in my pursuit of modernity and timelessness. The combination of both jade and conch has particularly appealed to customers. I have a passion for gemstones and these two are particularly special for me."
Whatever the design is, Sarah believes that jewelry should be kept through generations and last forever; therefore, she puts a lot of emphasis on quality and even coming up with personalized items for individuals. Through her "Portrait Jewels" concept, she has developed a portfolio of private clients for bespoke commissions.
"I appreciate being able to take emotions and personal stories and transforming them into a design," she says. "Just as my designs are reflections of my life, the same principle can apply to clients. Their unique story inspires me and my job is to keep memories alive through jewelry."