Legendary Hollywood action hero Sylvester Stallone is the inspiration behind Richard Mille's new RM 25-01 Adventure watch.

Despite our sedentary modern lifestyle, humans retain from our nomadic past a thirst for adventure and discovery. As new technologies make it possible to locate oneself to the nearest centimeter anywhere on the globe, today's adventurers seek to challenge their capacity to survive under perilous conditions.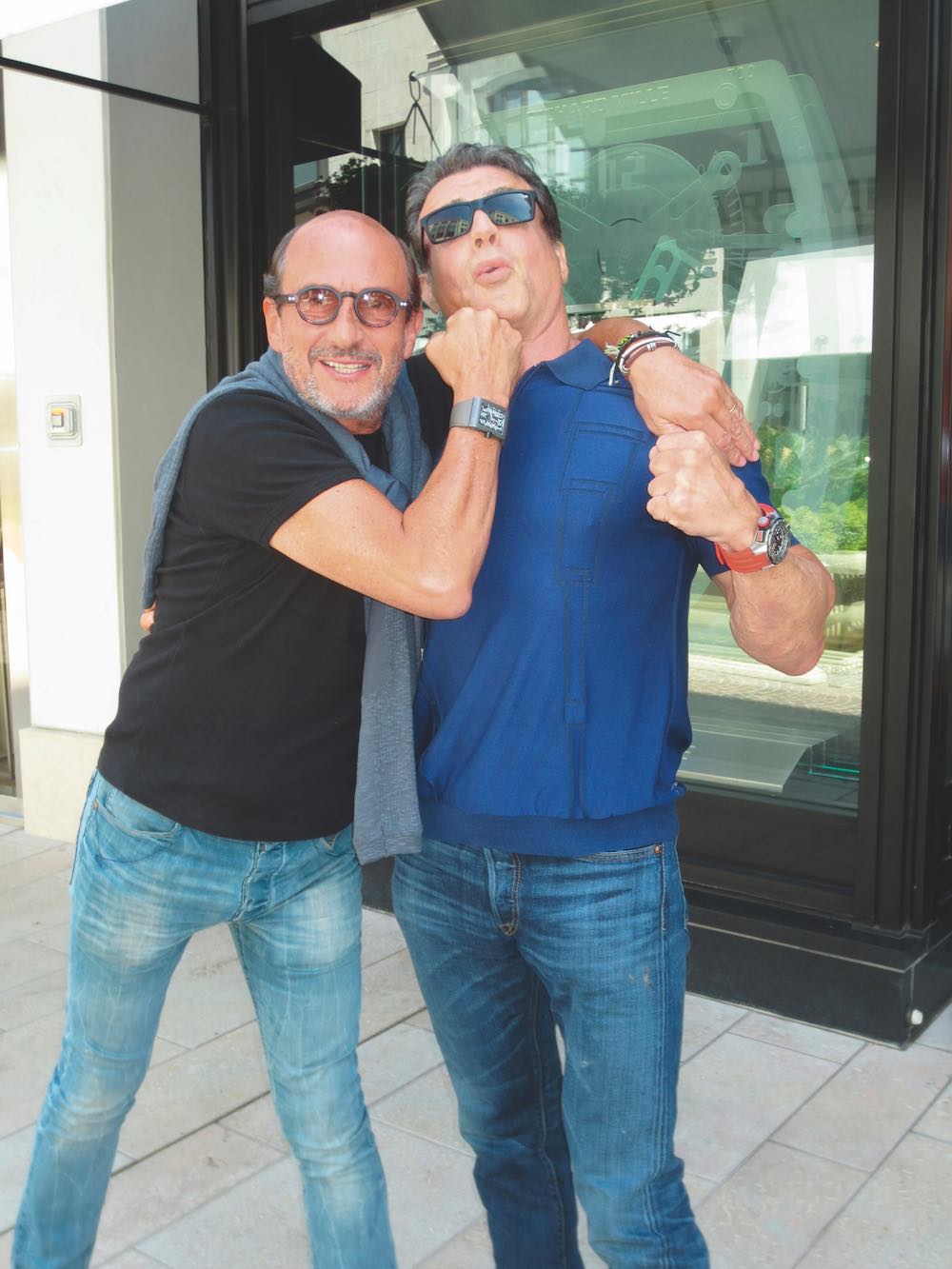 Developed in collaboration with Sylvester Stallone, the new RM 25-01 Adventure tourbillon chronograph attests a desire on the part of Richard Mille and the artist to conquer the most thoroughly hostile of natural environments. Hero of the novel First Blood by David Morell, John Rambo has embodied our idea of the adventurer for over 30 years. First portrayed on film in the guise of Sylvester Stallone in 1982, this character of a man tormented by a war without mercy had a major impact on the actor's career, revealing "Sly" as the man of Hollywood action films. With its hitherto unheard-of functionalities that go to the very heart of the watch, the RM 25-01 could easily be imagined on John Rambo's wrist. Truly a horological UFO, this timepiece is, as Sylvester Stallone says, "Ready for action."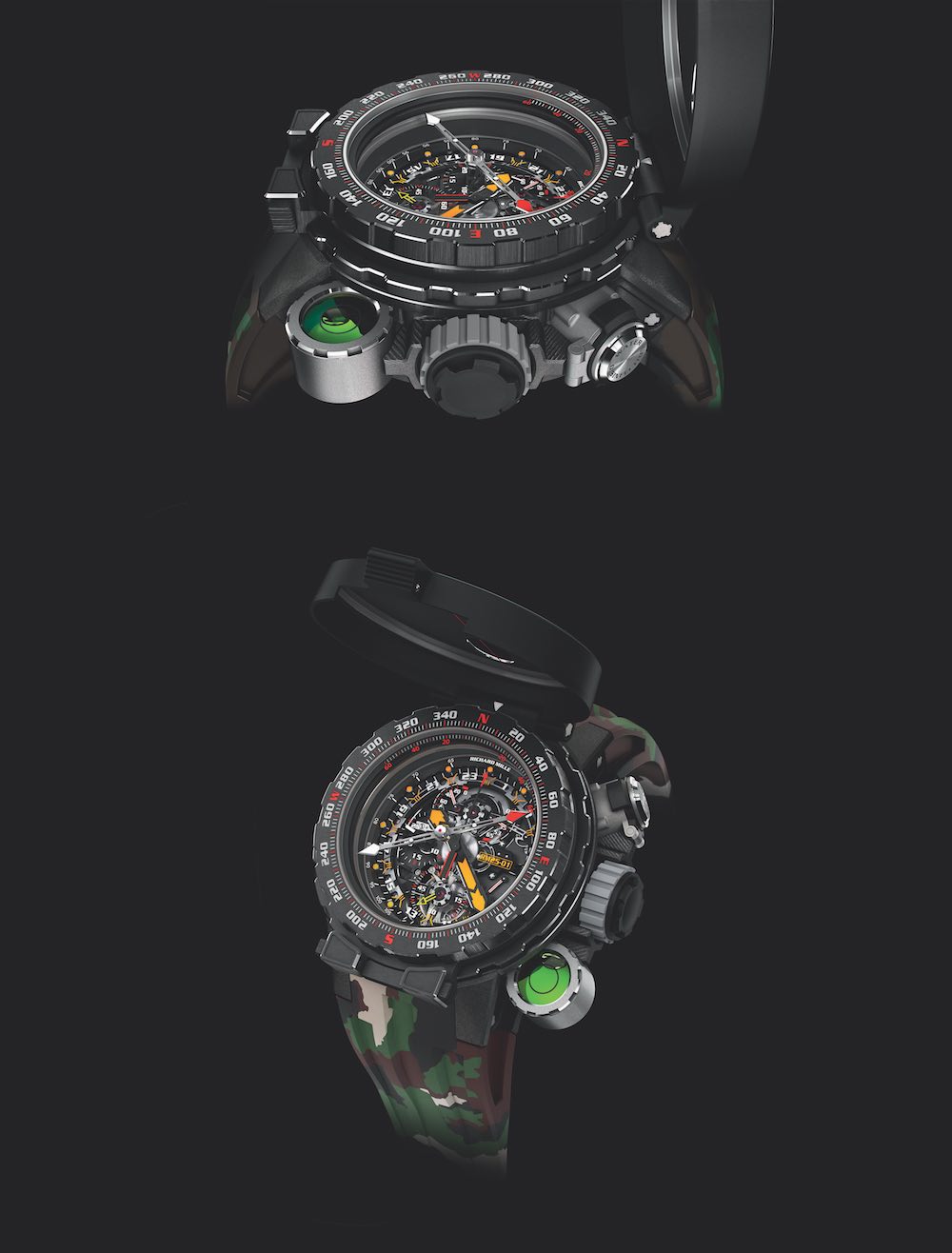 The goal of the technical approach adopted by the RM 25-01 was to provide a tool that would allow these brave souls to get around safely, wherever they might be. Stallone has always had a distinct preference for imposing wristwatches. Many noted the RM 032 on a red strap that he wore throughout The Expendables 3, which he also directed. It was thus incumbent on the RM 25-01 to adopt the round shape of the former, perfect for accurate reading of the time and suitable for housing a compass, a crucial piece of equipment no adventurer should be without, which Stallone specially requested. In terms of movement, the caliber RM25-01 tourbillon is Richard Mille's signature technicity at its best.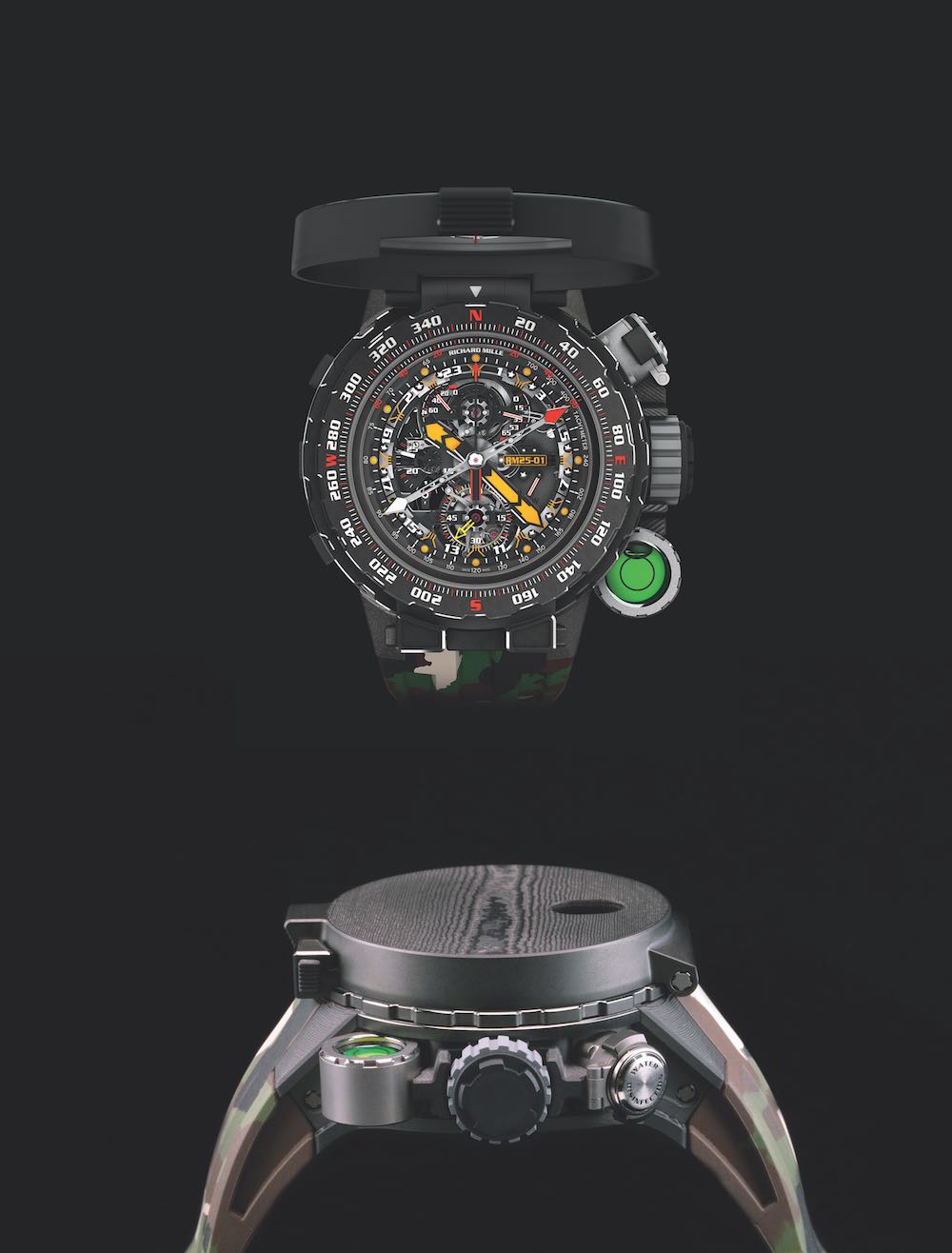 Its baseplate and bridges, machined out of grade 5 titanium, effectively support a mechanism that combines a tourbillon complication and the complexity of a new 'competition' chronograph movement. It took the brand's engineers several months of work to optimize the caliber. In the end, they successfully reduced its weight while increasing its precision and long-term chronometric reliability. The overall reduction in inertia goes hand in hand with a 50 percent lower energy consumption. The 70-hour power-reserve, visible using the coupling and function indicators, drives an unusual 24-hour display, essential for distinguishing am and pm should the viewer be deprived of sunlight. The round case showcases a combination of titanium and Carbon TPT, the indestructible composite whose damascene surface has become something of a brand signature and which significantly reduces the overall weight of the watch.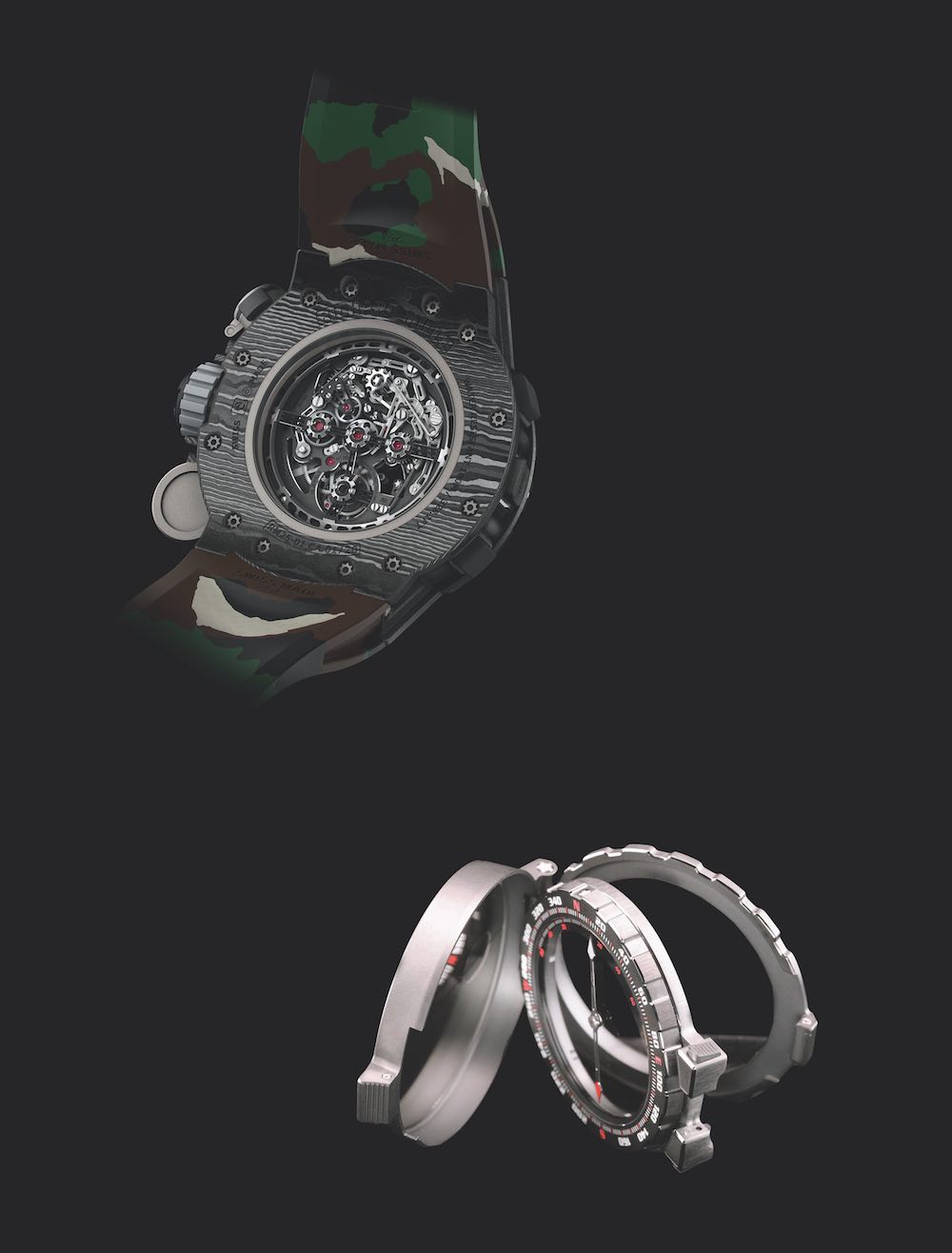 Water resistant to 100 meters, the RM 25-01 comes with two interchangeable bezels. The first is a compass in grade 5 titanium with a DLC coating that has both a fixed and a rotating bezel. Its bayonet mount makes it quick and easy to fix on the case. The Carbon TPT cover has a mirrored back and a slot at 12 o'clock to increase precision of sightings with the compass needle. Its sapphire crystals have a multilayer anti-reflective treatment, as well as an antimagnetic coating to prevent any mutual interference of the movement and compass.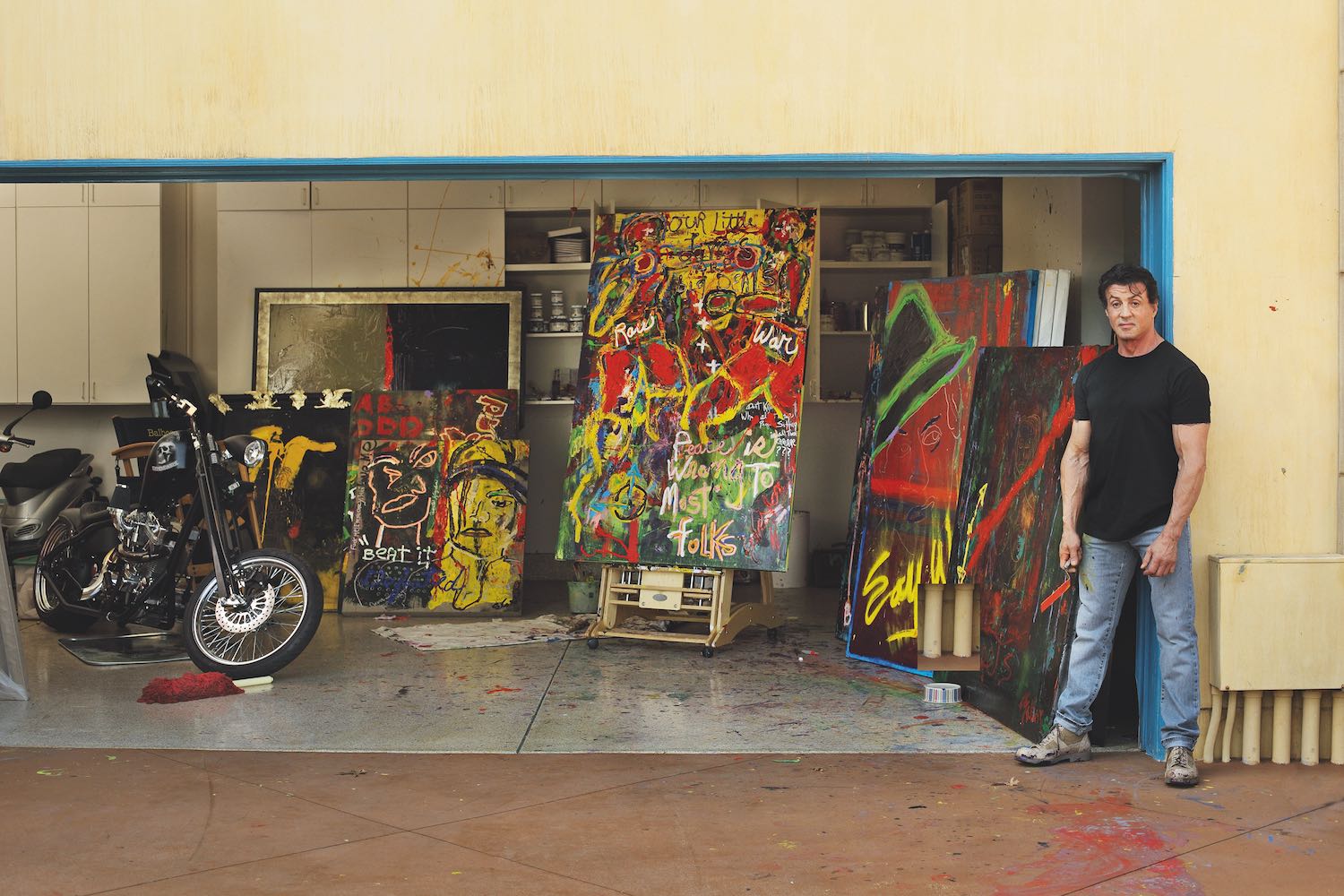 A spirit level located at 4 o'clock makes it possible to check that the watch is perfectly horizontal for better readings. Detached from the watch, the compass may be affixed to a plate made of Carbon TPT. Ideal for orientating, this configuration provides – among other things – lines indicating the direction to take when following a course on a map. The compass bezel may be switched out by the wearer for a bidirectional bezel in Carbon TP and titanium, with a 24-hour scale, a 360° graduated disc, and indications for the cardinal directions.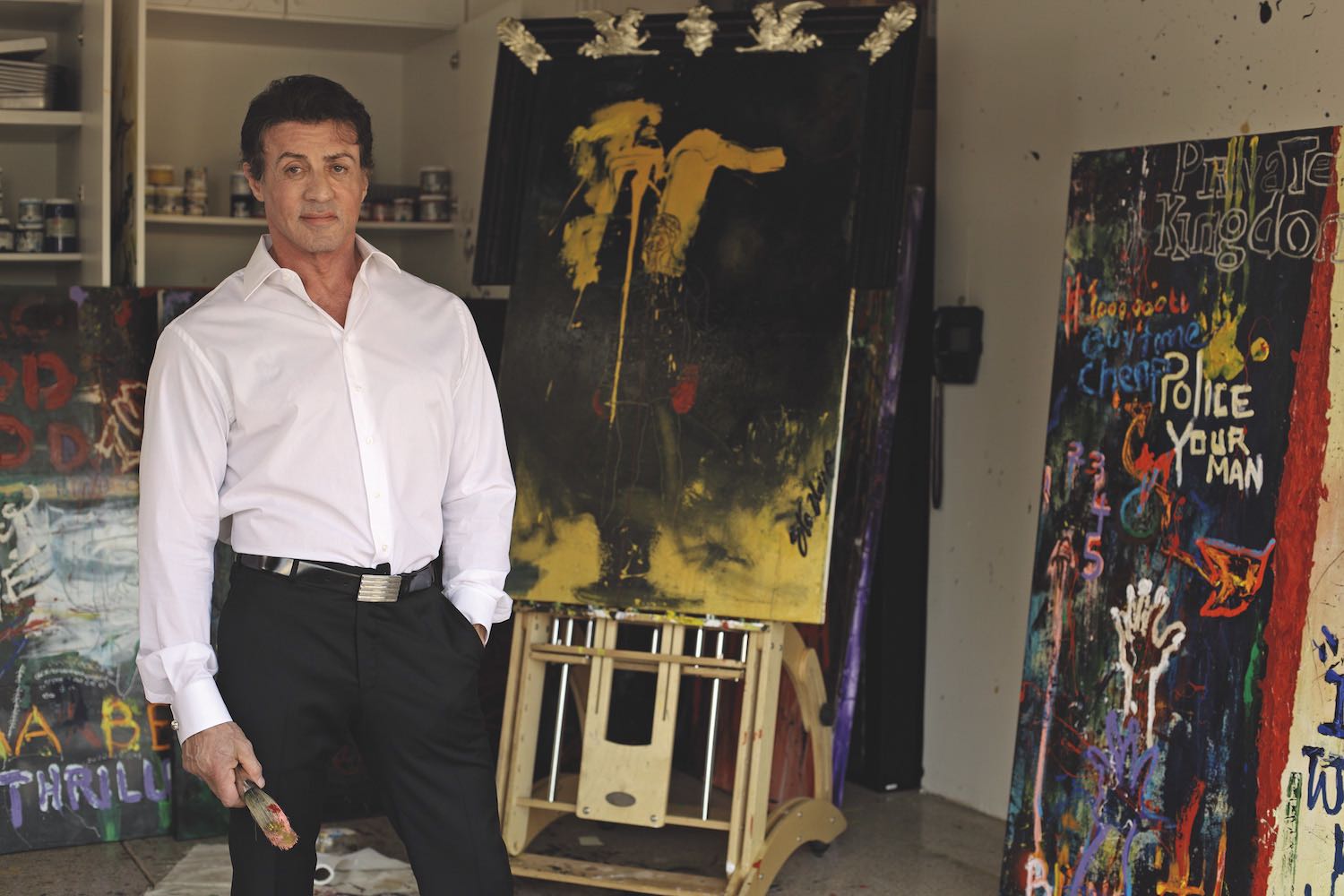 No calculations are required – all that's needed is to face the sun with the hour hand and turn the bezel so the local time is indicated on its 24-hour scale – the wearer can then identify North, South, East and West in either hemisphere. At 2 o'clock, a hermetic compartment in grade 5 titanium can hold water purification tablets that make a liter of any water safe to drink in 30 to 120 minutes, depending on the level of pollution.
In keeping with the spirit of adventure that emanates from this limited edition of 20 pieces, designed with "Sly" Stallone, a sculptural strap in natural rubber sporting a camouflage motif and a strong pin- buckle in grade 5 titanium keep the ergonomic curves of this imposing case securely on the wrist as only the Richard Mille brand knows how.