Hollywood actress Nicole Kidman tells High Life about her close relationship with all things China.

For more than a century, OMEGA has been deeply committed to creating ladies watches that are just as beautiful on the inside as they are on the outside. Combining elegance with absolute precision was the theme of the brand's recent special celebration in Beijing – an event-filled day and night devoted entirely to women's watches and attended by Oscar-winning actress Nicole Kidman.
In the middle of autumn, on a bright, sunny day in Beijing, Kidman visited the OMEGA boutique at Oriental Plaza, the prestigious brand's only flagship store in China and one of the biggest watch boutiques in the world. There she met with OMEGA President and CEO Raynald Aeschlimann, who introduced her to the brand's latest ladies timepieces including the first Master Chronometer made specifically for women: the Constellation Petite Seconde. A delicate watch with a mother-of-pearl dial, the Petite Seconde features a "small seconds" subdial with four diamond markers placed at 9 o'clock.
Kidman, who has been an OMEGA ambassador since 2005, spoke warmly of her relationship with the iconic Swiss brand.
"I cannot believe it has been 12 years now. It feels beautiful to be a part of this brand," she said. "I am so proud of the relationship that we have because I believe in it and I have had the ability to see over the years the brand grow into probably the biggest watch brand there is in the world. I have been all over the world and to be back in China now, in Beijing specifically, says so much about the brand in the sense of their strength and longevity."
Having been to China at least 20 times and grown up with Chinese friends in Australia, Kidman is extremely fond of the Chinese culture.
"I have a really strong affinity with the country and I think I understand Chinese values," she explained. "Family obviously is one of the biggest things in China in terms of valuing loved ones, children and also grandparents. I love that. That is probably the basis of the whole way in which this country has grown."

In the evening, Kidman joined OMEGA's special celebration of ladies watchmaking in the heart of Beijing. Attending the event wearing a stunning Schiaparelli dress and LK Bennett shoes, Kidman chose as her timepiece the new Constellation Petite Seconde, red gold on red gold model with white pearled mother-of-pearl dial.
Mr Aeschlimann welcomed guests from all over the world and spoke proudly of OMEGA's long and rich history of watchmaking for women.
"All of these watches, old and new, are linked by their DNA," he said, adding that "striving to be the best is the common thread."
Throughout the evening, guests enjoyed a showcase of timepieces from all eras. OMEGA's new Seamaster Aqua Terra 150M Ladies watches were given plenty of attention, thanks to their eye-catching pearled mother-of-pearl dials in white, Tahiti, lavender and coral, while OMEGA's iconic Ladymatic, a timepiece often worn on the red carpet by Kidman, was as popular as ever.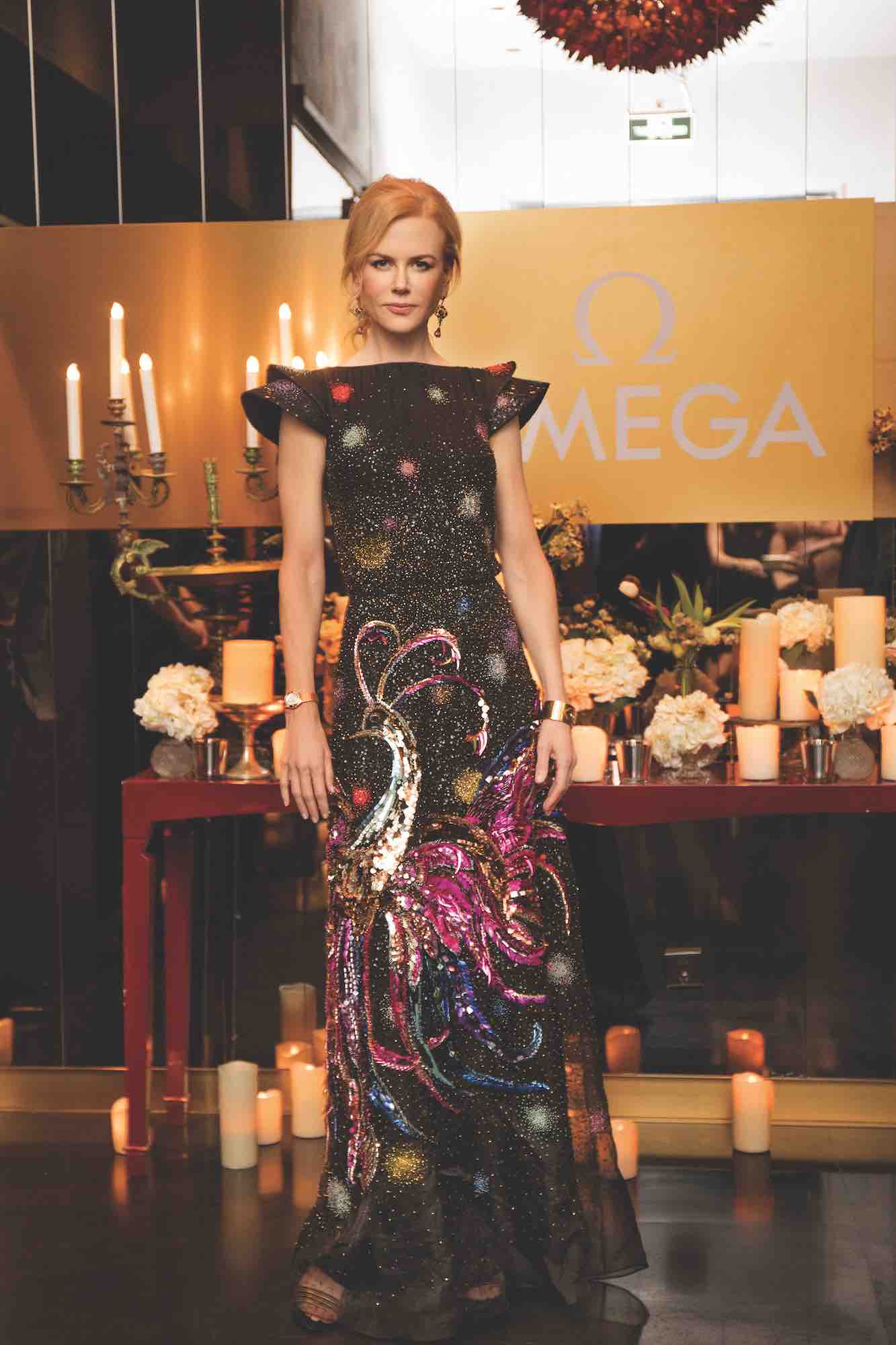 While OMEGA has produced many stunning timepieces, Kidman's favorites are the Art Deco pieces.
"When you see the craftsmanship of the watches from the 30s and 40s, you are amazed by the intricacies and the precision," she said. "They are works of art, just like the modern day watches which I think probably in 40 years' time, people will look back and say 'look at these.'
"They are exquisite pieces of watchmaking but also jewelry. I think as a woman you wear a watch because it is practical, but you also want it to be jewelry. You want it to be something that other people notice and say 'that is beautiful and it is incredibly chic.' And that is what OMEGA is very good at."
Other than being known for sheer elegance and performance in the world of watches, OMEGA is also affiliated with supporting women in the modern world. While looking at the exhibition of watches from various times in history, Kidman said, "I am impressed with just how modern they were even back then. The images of women in their campaigns were also very much about empowering women, even then, which is something that I am committed to politically. The brand has been involved philanthropically with me, with UN Women, and they are huge supporters of women's rights all around the world."

After the special night of celebration ended with a cocktail on the terrace, Kidman spoke of how grateful she felt at this moment in her life.
"Time is so precious and I think it is more about us realizing the gift of life and time," she offered. "At this stage of my life, it is not so much the gift of time giving me something, but me just saying, 'I'm so lucky to still have time here.' I cherish it and I don't take any of it for granted."  
Kidman also mentioned that she enjoys spending her down-time with family, commuting back and forth from Cincinnati to Nashville.
"I get the joy and nourishment from my family," she smiled. "The idea of being in a hotel room without them alone, knowing I could be with them, even if it meant just a bit more travel, I would much prefer to do that. When I attach, I attach like that."