Local businessmen Gordon Yuen and Snail Fong have brought two very different passions together to create one of Macau's more unusual stores.

The first thing you notice about this distinctive shop is the giant bear – the only one in the city perhaps – and the light, a warm amber that casts a glow on wooden barrels turned into tables. Shining through the windows, it creates a beacon of subdued browns and gold atop the black and white chess board floor that contrasts gracefully with the old apartments outside. Talk about combination.
Gordon Yuen is a formal looking Gen Xer. Born and raised in Hong Kong and boasting a double degree from York University in Canada, his calm and serious stems from creativity fueled by wine.
"I used to work in finance but I didn't feel like I was being creative enough compared to my western colleagues, so I thought, 'When you retire what do you do?' The answer was drink wine and relax!" laughs Yuen, who established his own wine bar after exiting the finance world in the early 2000s.
His business partner, Snail Fong, used his creativity to seize opportunity where others saw only disaster. After Typhoon Hato washed away his father's antique store last year, Fong rebuilt and reinterpreted the space by mixing his love of fashion with Yuen's penchant for wine.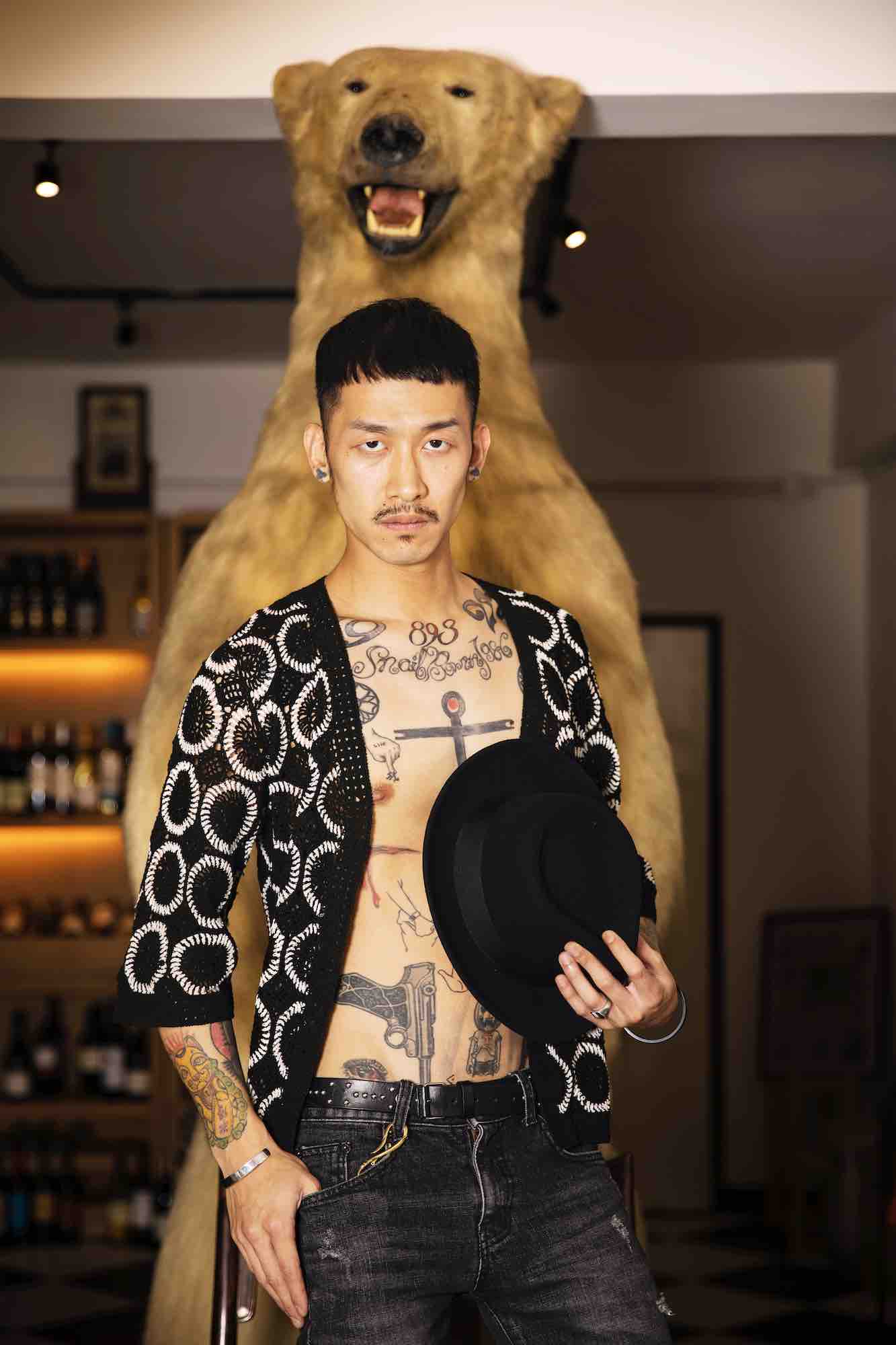 "This is the result of Typhoon Hato," he tells High Life. "This was my father's 45-year-old Chinese antique shop, only, revamped."
Armed with tattoos, piercings and an avant-garde style, Fong spent 17 years in Taiwan before returning to Macau to revive his father's business – one of Macau's oldest antique shops and among the few remaining in the city. So began Fong Art.
"I want to change the style of antique shops here in Macau," Fong explains, who also plans to launch his own fashion brand.
The unlikely pairing of these two businessmen goes back more than a decade. When Fong was a regular customer in Yuen's wine bar.
"A customer liked me so much that we eventually partnered for this business," Yuen laughs.
Roaming around the shop, both classic theatrical songs and 90s pop play simultaneously on loop, an eclectic background for the wooden display wall featuring a vast array of international. Alongside sits a rack of high fashion garb and antiques as old as the Tang dynasty.

"This is an actual set of teapots from an emperor of the Tang dynasty," Fong says, pointing to one of the standout display items. "It is still for sale although the market here for these kinds of products is very low."
Wine combined with antiques combined with fashion invites a deeper examination of the world's ever-changing concept of trends and how, through mixing unusual bedfellows, they assume new meaning and value.
Take the stuffed wild animals on display as an example, which Fong's father purchased at auction. They are certainly provocative, perhaps unintentionally so, but inevitably provoke questions about their relevance in the modern day.
Nevertheless, it is Fong's determination to challenge the status quo that drew Yuen to him.
"I cannot compete with what the millennials are doing now," Yuen says of the reasons for this unusual partnership. "They are more advanced, everything is faster, so if you can catch the wave then good for you."
The antiques on display at Fong Art will leave one breathless, enlightened, angry or even disappointed, but regardless, the one undeniable common denominator is passion.