Marc Chagall's artistic world of innocent sentiments and religious symbolism may at first glance appear Freudian and childlike, but such was his idiosyncratic response to the suffering of mankind during the 20th century.

Currently in its 26th edition, Le French May is one of the largest cultural events in Asia, comprising more than 120 programs in Hong Kong and Macau. A collaborative project by the Macao Museum of Art and several public and private institutions from France, Marc Chagall, Light and Colour in Southern France is indubitably the centerpiece exhibition of Le French May 2018, showcasing the artist's output from the 1950s to the 1970s, while he resided in le Midi.
One of the foremost modernists to t the last in the old guard of European modernism, Marc Chagall was the quintessential witness and embodiment of the 20th century. He has been described as a disciple of Impressionism, Fauvism, Cubism and Surrealism, but none of these labels suffice to define a revered artist who has created art in practically every form imaginable, including various genres and types of painting, illustration, stained glass, art print, stage set, ceramic and even tapestry.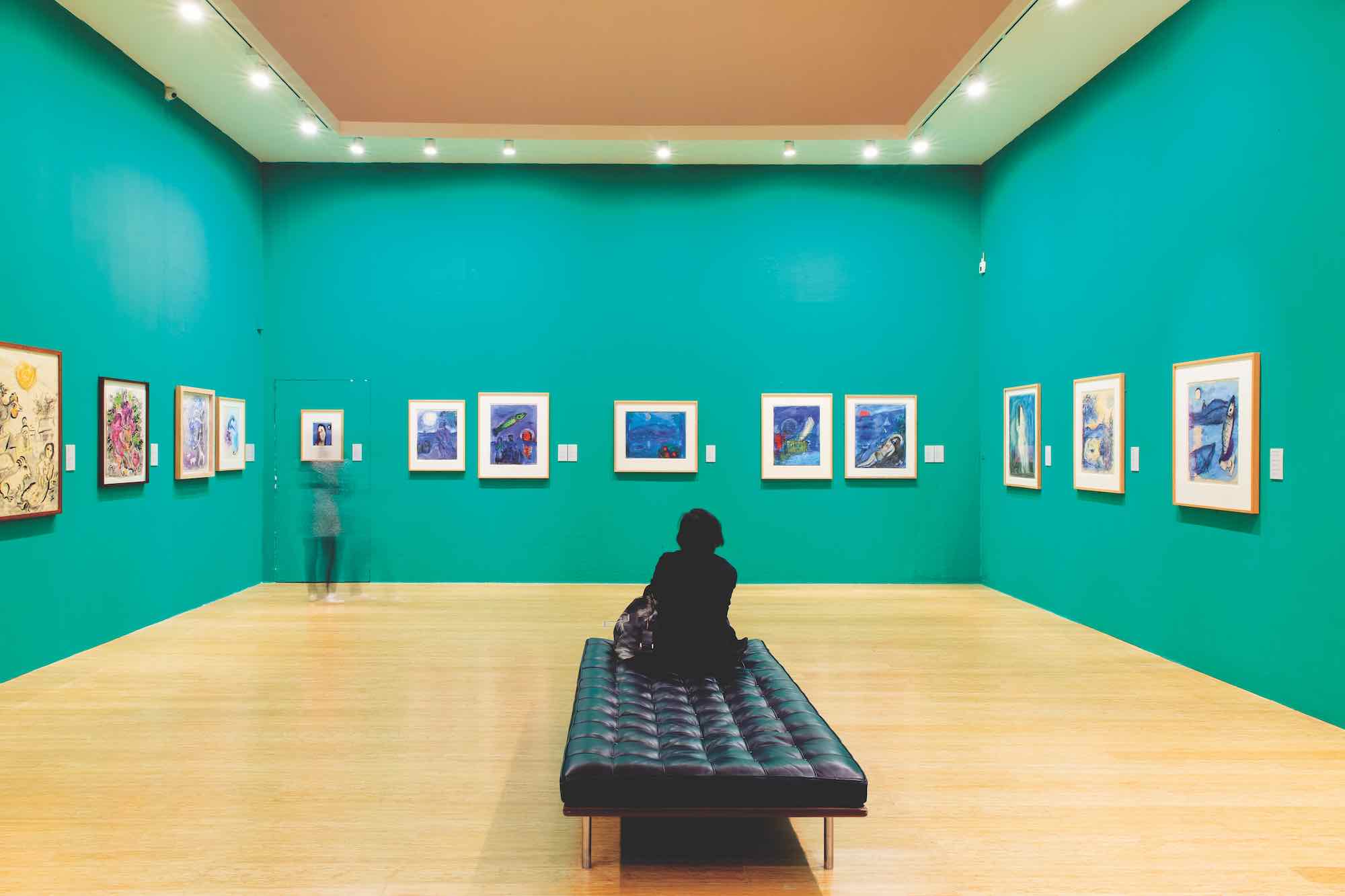 Chagall was born Moishe Zakharovich Shagal in 1887 in the Liozna shtetl, less than 50 kilometers southeast of the Belarusian city of Vitebsk, then part of the Russian Empire. Under tsarist rule, Jews were generally forbidden to live outside the Pale of Settlement, largely comprised of lands of the former Polish-Lithuanian Commonwealth, which had ceased to exist following partitions by Austria, Prussia and Russia. Created by Catherine the Great in 1791, the imperial policy was upheld by seven successive Tsars and in effect until the Russian Revolution in 1917.
Chagall was born into an observant Hasidic Jewish family of humble origins and frugal means which, by his own account, had no art of any kind at home. During his youth, pogroms remained a constant threat, whereas anti-Semitism was a fact of everyday life, indeed institutionalized. The situation of Russian Jewry was eerily akin to the period between the Nuremberg Laws in 1935 and Kristallnacht in 1938 under the Third Reich. His works, meanwhile, were denounced as "bourgeois" by Soviet authorities and branded "degenerate" by propagandist-in-chief Joseph Goebbels.

Hapless and helpless before the unstoppable wheel of history, he had to leave his native Belarus and adopted country on several occasions. Fleeing collaborationist Vichy France, he reached the United States just one day after the Axis invasion of the Soviet Union, codenamed Operation Barbarossa, had begun. Due to a medicine shortage, his beloved wife Bella Rosenfeld would not survive the war, nor did 99% of the people of Vitebsk, which suffered a worse fate than Warsaw.
It is all the more astonishing that, having witnessed the unprecedented horror and destruction of the 20th century, Chagall would have the courage, resolve and strength to create his idiosyncratic style of art, fusing innocent sentiments and religious symbolism into a Freudian dream as pristine as a child. His art is passive escapism and active resistance simultaneously, modern and conservative at once, emotional yet rational. Behind the façade of visual pleasure is both unimaginable suffering and unwavering hope, hence the stark contrast between Chagall's perception of the real world and his depiction of the ideal world.
During his early days in Saint Petersburg and Paris, he was but a country bumpkin from a Belarusian backwater, but rather than concealing his roots, he exuded them. His pious and hardworking father, a porter of herring barrels, would be remembered in the form of the fish motif. When there was little freedom to speak of under Tsarist, Bolshevik and Nazi rule, he and his wife could surf above the clouds in painting – but only in painting – far away from the torrents of time.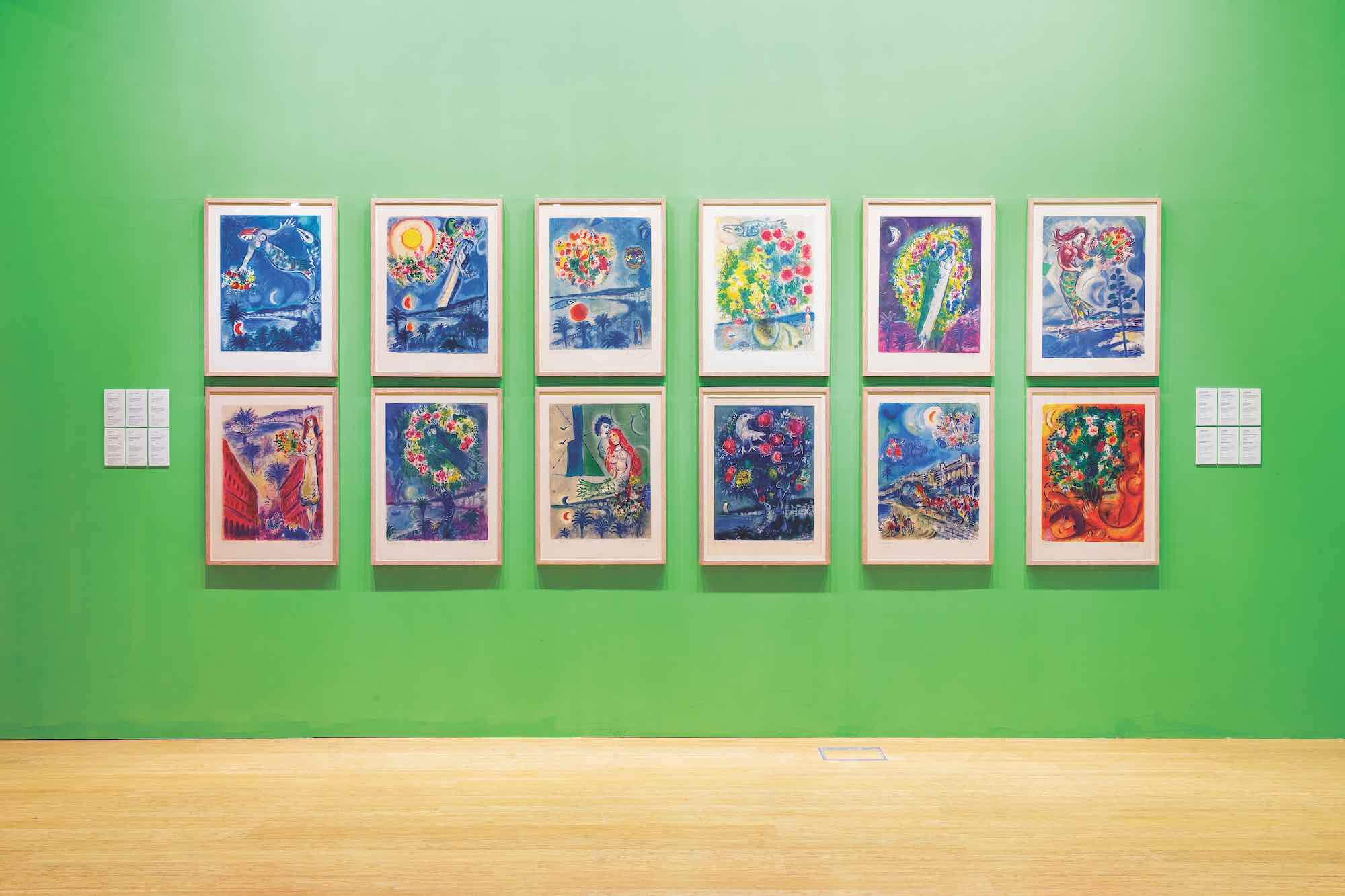 The older he grew, the more vibrant his paintings. By the time of his passing in Saint-Paul-de-Vence in 1985, modernism had run its course and his homeland had entered the era of Glasnost and Perestroika under Mikhail Gorbachev.
It would be convenient but indolent to match Chagall's gouache paintings with Édith Piaf's ballads and chansons. Instead, the exhibitor screened La Couleur des Sons, a spellbinding animation film by the multi award-winning Uzbekistan-born French pianist Mikhail Rudy, whose family were victims of Bolshevism, combining his piano recitals with Chagall's ceiling frescoes for the Opéra Garnier. Commissioned by Minister of Culture André Malraux, Chagall's magnum opus is a mesmerizing palette of five elements, dedicated to the greatest composers in history.
Open until 26 August, Marc Chagall, Light and Colour in Southern France is as much a visual feast as it is an emotional catharsis, a first-rate exhibition in every aspect.