Macau designer Sanchia Lau shares her design concept and creative experiences.

Having majored in Textile Design at Central Saint Martins College in London and Fashion Design at the China Central Academy of Fine Arts in Beijing, local Macau designer Sanchia Lau has exhibited her works everywhere from London to Beijing, Hong Kong and Macau.
She was on the shortlist of the 2017 i-dott design competition, while her "Scar" and "Barbie" series were featured in London Fashion magazine. 
Not bad for a 26-year-old.
Sanchia used to study traditional oil paintings, but decided to follow her heart and turn to design instead. However, because of her artistic background, she focused on a unique crossover of fashion and art.
She admires designers such as John Galliano and Issey Miyake who balance business and social needs with their art and considers that the significance of a designer's job is to express the world as it is conceived in her own mind to the world through her professional training.
Last year, Sanchia founded her own brand "珏SANCHIA." The brand has grown rapidly during the past six months. Like the founder herself, the brand has always been concerned with the spiritual world of contemporary women through the creation of garments and fabrics. It focuses primarily on knitting and printed embroidery, combined with contemporary art.
"My design is always a combination of elements of female concern, the attitude of art and the combination and application of traditional elements," she tells High Life. "That is my style.
"As for what makes a good brand, it is definitely not to just produce a product but to share an attitude which may enhance the quality of life for the public in some way – and that is the motivation for my creations."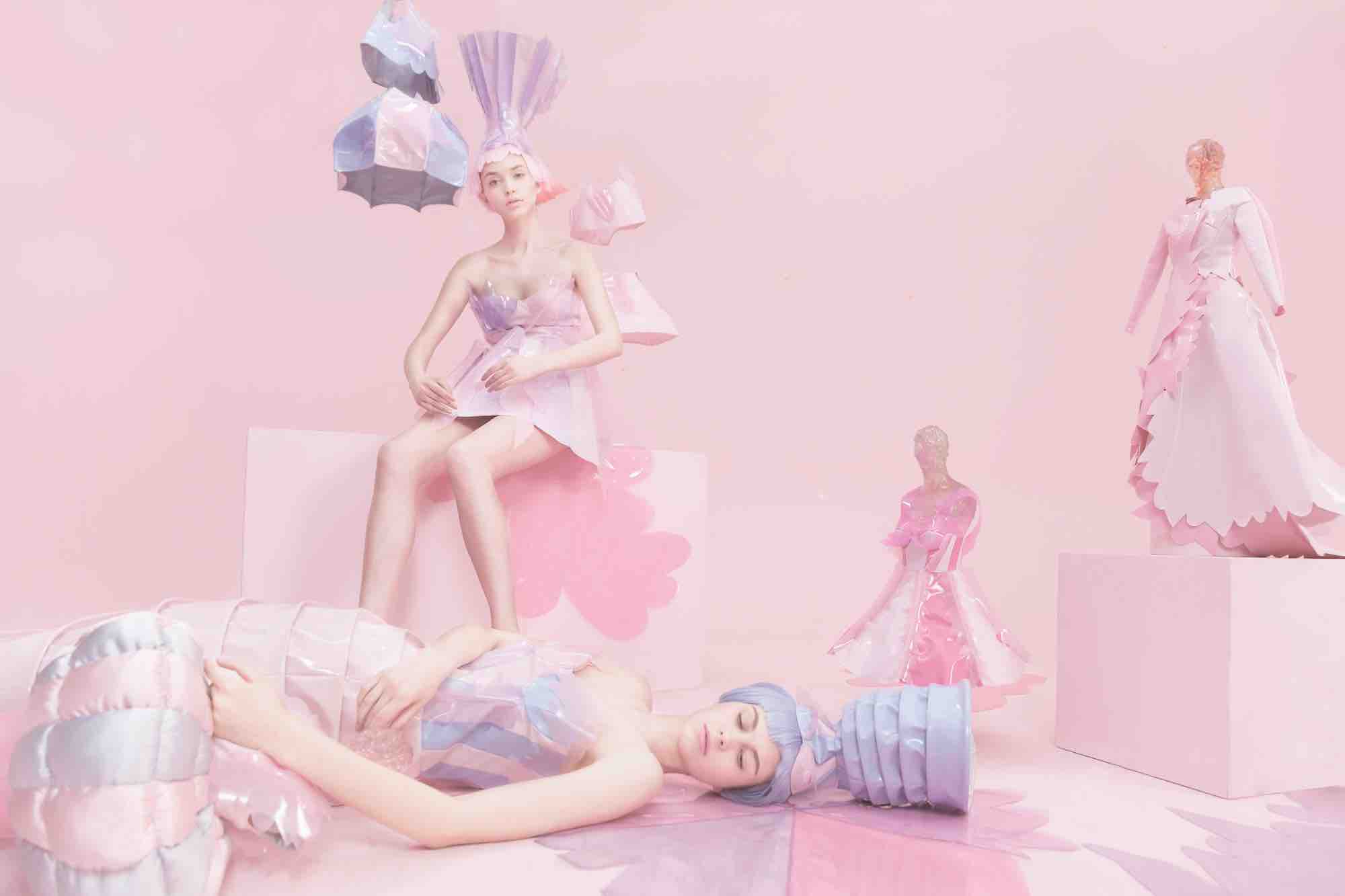 Sanchia still remembers the first time she felt she was truly a professional fashion designer while preparing for her solo exhibition, Erotic Dream, in Beijing.
"I was inspired by the concepts of rotating sculptures and cloth sculptures and trying to introduce them into fashion creations, but I wasn't sure whether it would succeed," she recalls.
"It was really like doing experiments; I had to keep trying and it wasn't until the 15th attempt that I finally managed to get the pattern making for the clothes done. That's the moment I really had a sense of accomplishment – stronger than any sense I've had in my exhibitions since. I look at that moment as the beginning of my career as a fashion designer."
Still a new brand, "珏SANCHIA" – which is based on creative printing to develop fabric derivatives and related artistic cross-over products including scarves, handbags, plates, wallpaper and children's wear – has received collaboration invitations from high-end hotels like W Hotels and St Regis for crossover events that include afternoon tea, exhibitions and workshops. There have also been cross-over projects with real estate companies like K11 Guangzhou, Vanke and Wanda.

"These have encouraged me to make progress step by step," Sanchia says humbly. "Not every one is perfect but I really hope that people will not only notice our brand and products, but also our attitude to art."
The road to creation is always difficult. With minimal resources and having to learn along the way, Sanchia has also had to juggle her art with the demands full-time work – yet she feels positive about the progress she is making.
"The domestic brands in China today are still too commercial," she says. "As a professionally trained designer, I feel obliged to show the world that Chinese brands can also have good art and good design balanced with the commercial side. I hope I can achieve that gold too.
"I don't really dream of huge success, I just want to create a world of my own. That way, in the future, I'll be more emboldened to stand in front of people who know me and show them that I can be independent, that I am moving forward in my own way."