Photography Eduardo Martins
The classical orchestra is a living organism, whose development trajectory mirrors the evolutionary history of its native city. High Life had the privilege to interview Jiří Pelka, Principal Viola of Shenzhen Symphony Orchestra.

The classical orchestra is an embodiment of a city's identity and psyche. Macau became a key port city in 1557, but with a typically Latin attitude, it was not until 1983 that the precursor of its namesake orchestra was founded. Hong Kong became a prized possession of the empire on which the sun never sets in 1841, but it was not until 1957 that the precursor of its flagship orchestra was founded. Established as a city only in 1979, Shenzhen wasted no time in founding Shenzhen Symphony Orchestra (SSO) in 1982.
The proverbial "Shenzhen Speed" holds true not only in the spectacular emergence of China's model city of the 21st century, but also the meteoric rise of the symphony orchestra named after it. From humble beginnings and a barren cultural landscape, SSO has developed into a 120-strong ensemble and established itself as one of the most esteemed in the region.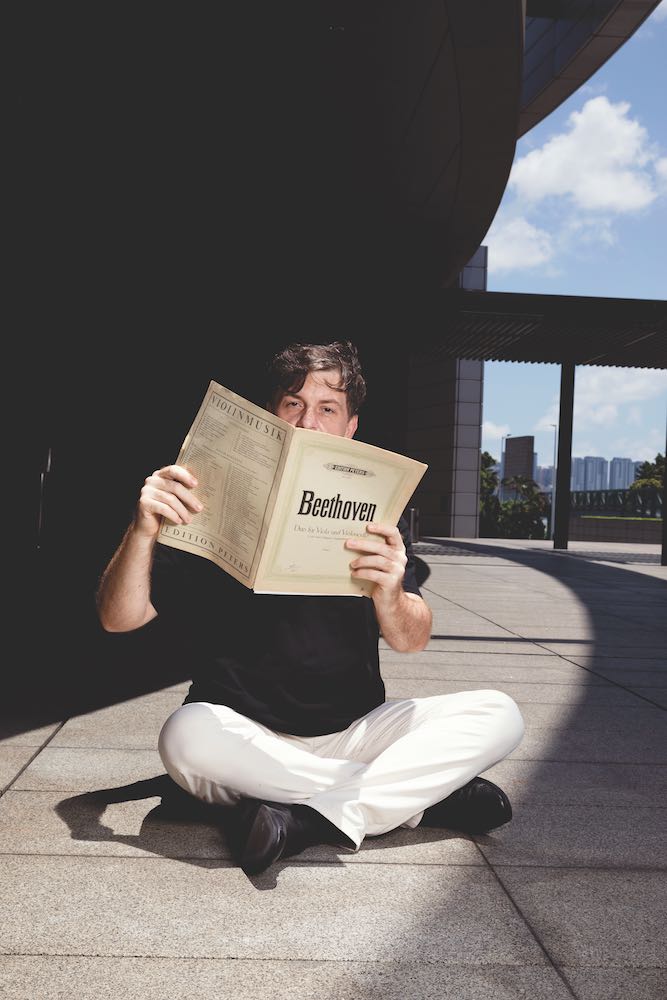 Born into a musical family in Uherské Hradiště, an 800-year-old Moravian fortress town near the Czech-Slovak border, Pelka started learning the violin at the tender age of five from his grandfather, whose teacher was a protégé of the virtuoso violinist and influential pedagogue Otakar Ševčík (1852-1934), and the viola at 12. The historical city centre of his hometown is so well-preserved that the multi-award winning Amadeus could have been filmed there, except that it was shot in Kroměříž and Prague. As if scripted, Kroměříž Conservatory and Academy of Performing Arts in Prague are precisely Pelka's alma maters.
Pelka studied at the Academy of Performing Arts in Prague under the tutelage of Professor Jaroslav Motlík, Principal Viola of Czech Philharmonic, the country's flagship orchestra with the magnificent Rudolfinum as its home turf. Whilst a student, he was a member of Gustav Mahler Youth Orchestra in Vienna, established in 1986 by maestro Claudio Abbado. Having won a number of prestigious prizes, including 1st in the Czech Conservatory Competition, 3rd in the International Beethoven Viola Competition and 1st in the Concerto Bohemia Chamber Music Competition, he would later join Prague Philharmonia, founded in 1993 by maestro Jiří Bělohlávek, wherewith he participated in the recording of mezzo-soprano Magdalena Kozená's critically acclaimed album Le Belle Immagini under the Deutsche Grammophon label.

"Shenzhen Symphony Orchestra is a well-run orchestra with well-planned concert seasons, first-class facilities, esprit de corps and an enterprising spirit." Jiří Pelka
As Pelka explained, SSO's concert season typically comprises around 30 concerts and operas, along with more than 50 charity performances in hospitals, libraries, museums and schools. "We play under the baton of between 15 and 20 guest conductors each season", he revealed, "performances are therefore remarkably different in programme and style."
According to Pelka, life as a musician at SSO is busy, challenging, at times exhausting but ultimately rewarding. "There is a clear sense of achievement," he stated, "and we are not afraid to experiment." He added that working with guest conductors can be an indelible and horizon-widening experience, as they present new possibilities of artistic interpretation, wherefrom one learns so much about musical history and music-making.
"On top of all this, we have two rounds of international touring per year, each time between two to four weeks. In recent years, we regularly perform with musicians from the 'Belt and Road' countries. We receive them in China and are invited to visit them."
SSO's excellent planning is complemented by its portfolio of state-of-the-art hardware. In addition to the futuristic Shenzhen Concert Hall in Futian, whose acoustics are superb, there is also the Shenzhen Symphony Orchestra Concert Hall in Luohu, while a new complex is going to be built in Bao'an. Shenzhen's proverbial speed, it seems, is matched only by its customary ambition.
"I have always fallen for the viola's velvety sound and tremendous versatility. Its bass tone on C is like the cello, while the high tone on A is like the violin, or even the flute." Jiří Pelka
Pelka's love for the viola is perpetual and profound. "Playing the viola is being at the center of music," he described, "like the pumping heart of the orchestra." In his opinion, empathy and flexibility are the key attributes of violists, who ought to accompany both violinists and cellists alike.
"The viola rarely takes center stage, but there are brilliant solo pieces composed by Georg Philipp Telemann, Johann Sebastian Bach, Carl Stamitz and Franz Anton Hoffmeister. The viola is by no means restricted to the Baroque period, as its repertoire flourished again in the 20th century."